Author
"As you know, if you have read Guts and Grace, my father was an interesting character - certainly as an adult and, perhaps not surprisingly, also as a child. His chronic truancy was largely a function of considerable mental precociousness coupled to a spirited individuality.
"Based on his own written and verbal recollections, The Truant chronicles a formative two year period of his life in and around San Francisco in the late 1920's. It is centered on his abiding disdain for and eventual reconciliation with the public education system, but also recounts some of his unique experiences and the interesting people with whom he came in contact. Woven throughout are vivid descriptions of life in San Francisco in those times."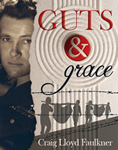 Craig's first literary endeavor, Guts and Grace, is a historical novel centered on his father's experience as a Japanese prisoner of war in WW2. Based on real people and actual events, it chronicles the horror of his father's imprisonment, struggle to survive, and the subsequent protracted battle with the toxic residue of the ordeal. Far more than a war story, this is primarily an intimate portrait of one man's journey through suffering and hatred to reconciliation, forgiveness and spiritual awakening.
See the Guts and Grace website for details, including how to buy the book.
A second historical novel is currently being written. It is a prequel to, Guts and Grace - working title: The Truant.
Anticipated  release of The Truant is fall, 2013.